perfective / 0 Comments /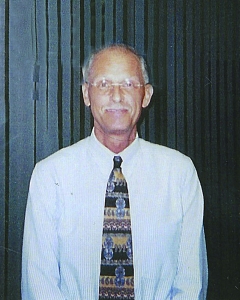 Anthony (Tony) Joseph Jeroski Jr., 69, former resident of Muncie, passed away July 16, 2017.  Tony lived the last few years in Costa Rica.  He was born January 16, 1948 in Logansport, IN to the late Anthony Joseph and Elizabeth Anne Burrous Jeroski.
Tony was advertising coordinator for Muncie Power Products Inc. from 1973 to 2010.  He also owned A.J. Designs, Inc., since 1985.  He received a Bachelor of Science from Ball State in 1971.  Master of Fine Arts 1982.  Tony's interests included biking, architectural sitings, botanical and aviary pursuits.  He was a member of the International Sculpture Society, History Society and History Alliance.
Tony was an International artist, designer.  He was recipient of the Grand Prize Indiana Ceramic Exhibit, DePauw University, 1979.  He won grand prize in 1971 in the Object and Craft gallery with the Indianapolis Museum of Art, Alumni Invitational Show with Ball State 1978, Annual Drawing and Small Sculpture Show with Ball State 1979, Art 500 Exhibit, Indianapolis Art League.  He also had one man shows with the Ball State Art Gallery in 1979 and Ceramics and Metal Design, in the Minnetrista Center in 1980.  Tony's largest work was the "Botanical Panorama", an architectural sculpture.  One of his last projects was the design and installation of the Baptismal Font at St Francis of Assisi Parish in Muncie.
Tony is survived by a sister and brother-in-law: Terrie and Rick Wiles of Indianapolis.  Nephew: Blake Wiles of Bloomington, IN and a niece: Haleigh Wiles of Indianapolis.  He is preceded in death by his parents and a brother, Ed, in 2015.
A celebration of Anthony "Tony" Joseph Jeroski's life will be held at 11:00 AM, Friday, September 22, 2017 at St. Francis of Assisi Catholic Church, 1200 W.  Riverside Avenue, Muncie, IN.  Tony's longtime friend, Fr. John Keifer, will officiate.  The family has asked that all donations in memory of Tony be given to St. Francis of Assisi Parish, Attn: Anthony Jeroski Baptismal Font Fund, for the continued upkeep of the Baptismal Font that he designed and built.