perfective / 4 Comments /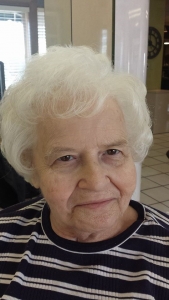 Barbara Ann Zufall, 79, of Lafayette, died Saturday, August 19, 2017 in Lafayette.  Barb was born to the late Kenneth J. and Clara Owen Kingery on January 21, 1938 in Tippecanoe County, IN.
Barbara was a mother of five, grandmother of eleven and great-grandmother of several.  Her life was devoted to her husband of 60 years and raising her children and being there for her grandchildren.  Family was everything to her.  In her early years, she enjoyed bowling.
In 1954 Barbara Ann Kingery became the wife of Roy C. Zufall and they loved and enjoyed their life together until Roy passed away on October 3, 2014.
Barb is survived by two daughters and a son-in-law:  Nancy Lewis of West Lafayette,  Kelly and Norman Holderfield of Lafayette.  Three sons and two daughter-in-laws: David and Rose Zufall of Attica,  John and Cindy Zufall of Texas and John Lewis Jr. of Lafayette.  Two sisters and a brother-in-law: Linda Conrad of Buck Creek and Willadan  and John Metro of Buck Creek.  Eleven grandchildren and several great-grandchildren.  She is preceded by her parents, husband and two brothers: George and Thomas Kingery.
Barbara's family has requested a private celebration of her life to held at Wheeler Family Funeral Home-Baker Chapel in Flora.  Burial is to be at North Union Cemetery near Buck Creek.  Family ask that all donations be given to the Parkinson Foundation.