perfective / 1 Comments /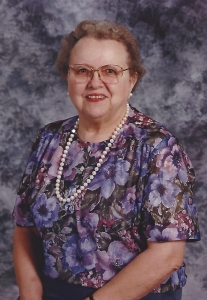 Beatrice P. Nipple, 97, of Flora, when home to be with her Lord and Savior Sunday, September 27, 2015 at St. Elizabeth Healthcare Delphi. Beatrice was born to the late L.D. and Bessie A. Zook Allen on January 20, 1918 in Carroll County.
In her early years of life she worked at Essex in Flora. She decided to retire and become a fulltime mom and grandmother. Her life was dedicated to caring for her family and helping in whatever way she could for the Flora community. Beatrice worked for a several years at the Flora Thrift Shop and volunteered her time at the former Brethren Home. She was a former member of the Flora 1st Brethren Church. She attended the former New Hope School in Carroll County.
On November 30, 1941 she married Forrest Nipple, the love of her life in Bringhurst, Indiana. He was killed in action during WWII in the invasion of Normandy on June 11, 1944.
Survivors are one daughter and son-in-law: Judy and Mike Hoffman of Flora. Two granddaughters and husbands: Alice and Andrew Tallackson of Michigan City and Sara and Jeff Overway of Logansport. One great-grandson: William DeVere Tallackson. One niece: Mona Groninger of Delphi. She is preceded by her parents, two brothers, one sister and one nephew.
Beatrice's family will receive friends Wednesday from 4-8 PM at Wheeler Family Funeral Home-Baker Chapel, 204 S. Center St. Flora, IN 46929. A celebration of life will be at 10:30 AM Thursday at the funeral home. Pastor Chuck Compton officiating. Burial to follow in Zion Cemetery. Memorials may be given in Beatrice's memory to the Flora Thrift Shop, envelopes will be available at the funeral home.