perfective / 5 Comments /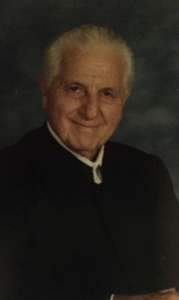 Charles Skiles, 89, of Bringhurst, IN, went to spend eternity with Jesus August 31, 2015 at his home where he had been lovingly and patiently cared for by his wife. He was diagnosed with Alzheimer's in 2013.
Charles was born to the late Harvey and Nettie Wise Skiles on July 7, 1926 in Rossville, IN. He later moved to a farm near Bringhurst, and began helping on the farm at a young age, learning early a strong work ethic.
He graduated from Cutler High School in 1944 where he enjoyed playing basketball on the school team. Charles was a member of the Old German Baptist Brethren N.C. Cutler Ridge Congregation.
He married Mary Helen Long on December 7, 1950 and they lived on the family farm in Bringhurst for 38 years which he spent engaged in livestock and grain farming. In 1988 he and Mary Helen built a new home close to the farm, where he lived until his passing. Charles remained interested in the agricultural operation and concerns of his family and tried to keep up as best he could despite the hindrance of his increasing dementia. He deeply loved his family and all whom he came in contact with, being intensely interested in their eternal destination, often being heard to say "I want to meet you up there".
He is survived by his wife and four children: Sharon and Lynn Peters of Bringhurst, Diane and Loren Peters of Ohio, Marcia and Robin Root and Larry and Joyce Skiles both of Bringhurst. Twelve grandchildren and thirty-two great-grandchildren. Two brothers: David Skiles of Evansville, IN and Eugene Skiles of Florida. Two sisters: Mary Noll and Alice Hoover both of Ohio. Three brothers-in-law: Richard Ottinger, Russell Long and Dale Long. Two sisters-in-law: Marlene Boone and Charlene Lynch, along with several nieces and nephews. He is preceded by his parents, two brothers: Paul and Mark Skiles and a sister, Carol Ottinger.
Charles' family will receive friends Thursday from 2-5 PM and 6-8 PM at Wheeler Family Funeral Home-Baker Chapel, 204 South Center Street, Flora, IN 46929. Funeral will be at 10:00 AM Friday with calling one hour prior at the Old German Baptist Brethren N.C. Cutler Ridge Congregation Church on State Road 75. Burial to follow at Maple Lawn Cemetery, Flora. Memorial contributions may be given to Serenity Hospice; envelopes will be available at the funeral home.
Online condolences at www.wheelerfamilyfuneralhome.com