perfective / 6 Comments /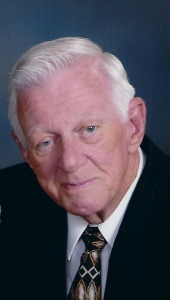 Charles W. "Bill" Ayres, 90, of Flora passed away February 16, 2018 at IU Arnett Hospital in Lafayette. He was born December 20th, 1927 at Bringhurst, IN to Bert and Edith Ayres. Bill graduated from Flora High School in 1947. He was in the Army from 1950 to 1952, all front line duty with two major battles. On January 4, 1953 he married Carolyn Sue Mann. Bill worked on construction for two years in Lafayette. In 1955 they moved east of Flora where he farmed until retirement. He was a member of the Flora Methodist Church. Bill liked to fish, hunt, and mow yards. In addition to his wife, he is survived by his children Melody Sorrells (Lex) of Lebanon; Joni Pringle (Drew) of Yellow Springs, OH; Scott Ayres (Amy Click) of Flora; and Kirk Ayres (Stefni Forgey) of Flora; 6 grandchildren and 6 great-grandchildren. Bill is preceded in death by his parents and two sisters, Carmen Bordner and Roberta Brim.
Visitation will be Saturday, February 24th from 11:00 – 2:00 at Wheeler Funeral Home, Baker Chapel in Flora with services immediately following. Burial will be at Maple Lawn Cemetery with Pastors Harry Roselle and Larry DeVos officiating. Carroll County Honor Guard will provide Military Rites.