perfective / 12 Comments /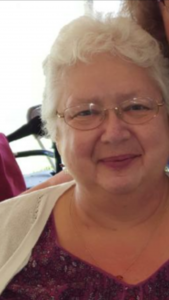 Christine S. Clear, 56, of Burlington, went home to be with her Lord and Savior Tuesday, November 15, 2016 at her home.  Chris was born to Herbert and Carolyn Spear Clear on May 17, 1960 in Monticello, IN.
Chris started working at the Carroll County Comet with Al Moss.  She also worked at the Herald Journal in Monticello and the Kokomo Tribune.  She then went back to the Comet.  Chris also was a deputy with Howard County Assessor's office.  She graduated from Carroll High School class of 1978 and attended IUK.
Christine was a devote Christian, always putting others needs in front of her own.
She and her mother owned at one time the Carousel Flower Shop in Burlington.  Chris enjoyed playing cards, puzzles and working on most any type of craft.
Her dog "Annie" was her whole world.
Christine is survived by her parents: Herbert and Carolyn Clear of Bringhurst.  Two sisters and brother-in-law's:  Jill and Mark McCracken of Virginia and Lori and Scott Royse of Clarks Hill.  Four nieces: Kylie, Brooke, Kira and Lauren.  Two great nieces:  Ella Jean and Lilah Marie.
The family of Christine invite friends to visit Wheeler Family Funeral Home-Baker Chapel, 204 South Center Street, Flora, IN 46929 Sunday, November 20, 2016 from 3 to 6 PM.  A celebration of Christine S. Clear's life will be at 11:00 AM Monday at the funeral home.  Chaplain Virgil Barker officiating.  Burial to follow at Chalmer Cemetery in White County.  Family ask that any donations made to be given to the Howard County Humane Society or the Carroll County Cancer Associations.  Envelopes will be available at the funeral home.