perfective / 4 Comments /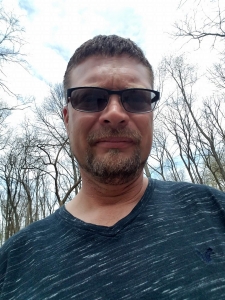 Daniel J. "Danny" Harwood, 43, of Crawfordsville, IN went on to be with Jesus Christ, Tuesday, May 9, 2017 at his home in Crawfordsville.  Danny was born to Richard and Nancy Harwood Gavin on October 18, 1973 in Montgomery County, IN.
In 2009, he married Karley Farris and she survives.
Danny worked 15 years at the street department for the City of Crawfordsville.  He was a hardworking man who loved his wife and children.  He loved to work on anything such as vehicles and being outside.  Danny loved to go mushroom hunting and mudding.  One of the main things he loved to do with his family was to bottle dig.  He did attend Calvary Baptist Church in Crawfordsville.
Surviving with his wife Karley Harwood are his children.  Son and his companion: Matthew Harwood and Kelly Poole of Waynetown.  Seven daughters:  Chasie and Scott Butler of Crawfordsville, Kylee and Brody Mefford of Crawfordsville, Kasey Harwood and her companion Bradyn Barker of Crawfordsville, Gabrealla Richie of Crawfordsville, Alleyson Farris of Crawfordsville, and Raechelle Harwood of Crawfordsville.  Mother: Nancy Gavin of Crawfordsville.  Sister: Theresa.  Two uncles: Alan Harwood of Florida and Jim and Linda Harwood of Crawfordsville.  One aunt:  Bonnie and Dwayne Wilson of Crawfordsville.  Two grandchildren and one to be born soon.  He is preceded by his father, and an uncle: Jack Harwood.  There are several cousins that survive.
Danny's family invites friends to visit from 5 PM to the time of a celebration of life service at 7 PM Monday, May 15, 2017 at Calvary Baptist Church, 128 E. 400 S. Crawfordsville, IN 47933.  Pastor Randy Glenn to officiate.  Family ask that all donations be given to a mental illness foundation of their choice or Calvary Baptist Church.  Wheeler Family Funeral Home-Baker Chapel Flora, IN is honored to assist the Harwood family in their time of need.