perfective / 2 Comments /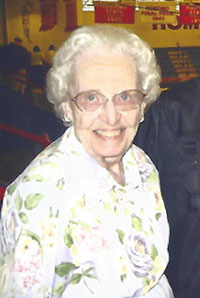 Doris A. Overholser, 91, of Flora, died at her home Friday, January 8, 2016. Doris was born to the late Clarence and Daisy Price Webb on February 28, 1924 in Frankfort, Indiana.
Doris married Max C. Overholser on August 29, 1943 in Bringhurst and he preceded her on April 14, 2010 after being married 66 years.
Doris was the Postmaster in Cutler for 20 years, retiring in 1988. During her marriage to Max she helped on the farm. Her and Max owned Cutler Café at one time. Her first job was working at the Frankfort Telephone Company, while her husband served our county during WWII in England.
Doris graduated in 1942 from Cutler High School. She was a past member of Ball Hill United Methodist Church, Home Ec Club, was active for many years bowling on a league in Delphi. She enjoyed quilting, reading, playing most any card game, and was an avid Chicago Cubs and Indiana Pacers fan
Surviving are three sons and daughter-in-law's: Dennis and Jan Overholser of Texas, Gary and Renita Overholser of Cutler and Tom and Bev Overholser of Bringhurst. One brother and sister-in-law: Charles and Sue Webb of Cutler. Two sisters and a brother in-law: Ann Beisel of Rossville and Alma and Dick Eller of Bringhurst. Eight grandchildren, eleven great-grandchildren and two great-great-grandchildren. She is preceded by her parents, husband, infant siblings and three brothers.
Doris's family will receive friends Tuesday 4-7 PM at Wheeler Family Funeral Home-Baker Chapel, 204 South Center Street, Flora, IN 46929. A celebration of Doris's life will be at 10:30 AM Wednesday at the funeral home. Ann Bingaman officiating. Burial to follow at Ball Hill Cemetery near Cutler. Memorials may be given in Doris Overholser memory to American Cancer Society.