perfective / 3 Comments /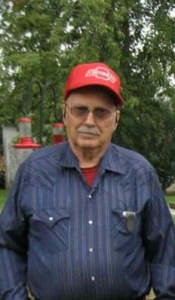 Edwin "Gene" Franklin, 82, of Monon, Indiana, died at his home unexpectedly Monday June 20, 2016. Gene was born to the late William Gobel and Virginia Dare Scot Franklin on May 22, 1932 in Shelbyville, Indiana.  Gene had lived the past 50 years on the Big Monon and was the oldest person living there.  Gene was always offering help to anyone needing it.  The morning he died was an example of him being the good neighbor.
Gene married Linda Lou Curwick on October 8, 1954 in Monon and she survives.
Gene started his work career with RCA in Monticello.  He also worked at the Monon Stone Quarry.  After working 32 years for the Monon Telephone Company he retired in 1999.
He was a graduate of Monticello High School in 1953.  He served our Country in the National Guard.
Gene's life was about his family, fishing, camping, playing the banjo and an avid Nascar fan and always routing for the number 24, Jeff Gordon.
Gene is survived by his wife of 61 years, Linda.  One daughter and son-in-law: Brenda and Russell England of Williamsport, IN.  Three sons and daughter-in-law's:  Merle and Glenna Franklin of Monon, Brad and Debbie Franklin of Monticello, Mark and Cindy Franklin of Buffalo, IN.  One sister: Joyce Duddy of Flora, IN.  Nine grandchildren and nineteen great-grandchildren.  Gene is preceded by his parents, one great-grandson, brother and a sister Ann Lou Abbott.
Gene's family will receive friends Thursday, June 23, 2016 from 4-8 PM at Frazier Funeral Home, 507 N. Market Street, Monon, IN 47959.  A celebration of Gene's life will be Friday, June 24, 2016 at 11:00 AM at the funeral home.  Burial to follow at Bedford Cemetery close to Gene's home.  Rev Clayton Kendall will officiate. Memorials may be given to the White County Cancer Association.  Wheeler Family Funeral Home-Baker Chapel Flora has been entrusted to assist family with arrangements.
Send condolences below.