perfective / 1 Comments /
Elizabeth Ann (Fisher) Sheetz,  90, formerly of Flora,  went home to be with her Lord and Savior on Friday, July 14, 2017, at Milner Community Health Care in Rossville, IN.  Elizabeth was born to the late Melvin and Mary Eaton Fisher on May 26, 1927, on her family farm in Camden, IN.   Her family was blessed to have been able to celebrate her life of 90 years with a family gathering on Memorial Day.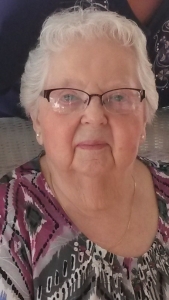 Growing up,  Elizabeth was a member of the Grace Brethren Church since its founding in 1940 and continued to attend until she went to live at Milner's.  She graduated from Camden High School in 1945.
On November 15, 1947, Elizabeth married Deyoe J. Sheetz from Fulton, IN, on the family farm in Camden, IN. He preceded her in death on April 30, 2007.
Elizabeth worked at RBM in Logansport, Sisson's Jewelry Store and the Brethren Home. She also was involved in the Home Economics Club – Aim High in Camden, as well as the Friendly Circle in Flora, IN.
Elizabeth is survived by 2 sons,  Joe Sheetz of Burlington and Mark Sheetz of Bringhurst; daughter and son-in-law, Pam and Greg Michael of Flora;  2 grandsons and their families:   Ethan  (Stephanie) Michael and their children, Landon, Reese and Crew, of Brownsburg;  Titus (Rachel)  Michael and their daughters Malia & Rylin, of Burlington.
Also surviving are 8 nieces:  Kay Hopkins, Lorrie Saar, Barbara Ashley, Amy Fisher, Sonya Jones, Cindy Kline, Sharon Stafford and Jeanne Young along with several great-nieces and nephews.
She is preceded in death by her brother, Robert E. Fisher and nephew, Michael Fisher.  Also, a very special friend since childhood, Myna R. Walters.
Elizabeth's family invite friends to call from 1 PM  to time of her service at 3 PM, on Sunday July 16th at Wheeler Family Funeral Home, Baker Chapel, located at 204 S Center St, Flora, IN 46929. Reverend James Franklin will be officiating.  Burial to follow at Maple Lawn Cemetery.