perfective / 2 Comments /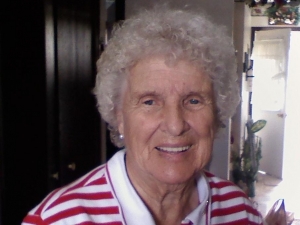 Esther V. Clingenpeel, 94, of Flora, when home to be with her Lord and Savior, Wednesday, October 25, 2017 at Milner Healthcare in Rossville.  Esther was born to the late Homer and Bessie Garrison Justice on October 23, 1923 in Frankfort, IN.
On September 13, 1940 in Delphi, Esther married Glen Clingenpeel Sr., and he preceded her in May 1978.
Esther worked for Sayco, Pioneer, Carroll County Comet and the Flora Senior Center.  She attended the Bringhurst United Methodist Church.  She was involved with the Girls softball league in Flora, bingo and enjoyed working outdoors in her garden and flowers around her home.  She attended school in Flora and Burlington.
Esther is survived by a son and daughter-in-law:  Glen Jr. and Nancy Clingenpeel of Flora. Granddaughter (caregiver) Terri Kelly of Cutler.  Seven grandchildren, eleven great-grandchildren and seven great-great-grandchildren with a great-great-great grandchild on the way.  Daughter in-law: Peg Clingenpeel of Burlington.  Son-in-law: Bill Hollis of Flora.  She is preceded by her parents, husband, daughter (Creta Hollis), son (Roger Clingenpeel), two sisters and two brothers.
Esther's family will receive friends Saturday, October 28, 2017 from 12:30 to 1:30 PM at Wheeler Family Funeral Home-Baker Chapel, 204 South Center Street, Flora, IN 46929.  Private family services will follow. Pastor Jeff Tomson officiating.   Burial will be at Maple Lawn.  Memorial contributions may be made in memory of Esther Clingenpeel to donor's choice.