perfective / 2 Comments /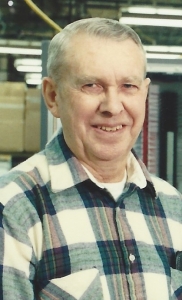 Kenneth D. Brown, 89, formally of Bringhurst, went to paradise to be with Jesus Monday, December 18, 2017 at St. Elizabeth Healthcare Delphi.
Ken was born to the late Donald D and Gloria Lake Brown on February 11, 1928 in Camden, IN.
On June 7, 1953 at the Flora Christian Church he married the love of his life, Betty Isaac and she survives.  They lived in the Bringhurst area for 45 years and just recently moved to the Delphi area.
Ken was a devoted Christian and lived his life with Jesus Christ as his redeemer.  He was a member of the Bible Baptist Church in Kokomo and was a former member of the Faith Church of Christ in Burlington where he served as an Elder and church treasurer.  Ken served our country in the US Army from 1950-1952.  He served 11 months in Korea.
Ken was a truck driver for 18 years.  He also worked at GM – Delco in Kokomo for 44 ½ years.
Ken enjoyed gardening, traveling and was an avid Bible reader daily.
Kenneth is survived by his wife of 64 years, Betty.  Three sons: Richard Brown of Delphi, Dave Brown of Burlington and Dennis Brown (Diana) of Michigantown, IN.  One daughter:  Lisa Miles (Greg) of Flora.  Five grandchildren:  Jennifer, Justin, Tyler, Clint and Caisey.  Three great- granddaughters.  One sister:  Betty Pauline Austin of Logansport.  Also, several nieces and nephews. He is preceded by his parents, one brother and three sisters.
The family would like to truly thank all the staff at St. Elizabeth Healthcare Delphi.
Kenneth's family invites friends to visit Thursday, December 21, 2017 from 4 pm to 6 pm at Wheeler Family Funeral Home – Baker Chapel, 204 S. Center St, Flora, IN 46929.  A celebration of Ken's life will begin at 11:00 AM on December 22, at the funeral home.  Pastor Steve Cole will officiate.  Burial to follow at Maple Lawn Cemetery.   Family asks that all donations be given to the Moody Bible Institute, 820 N. LaSalle St, Chicago, IL 60610.