perfective / 0 Comments /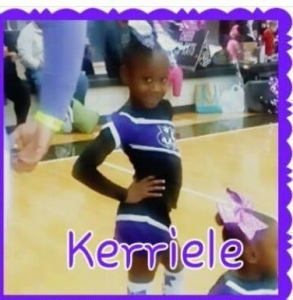 Kerrielle Danyell McDonald, 7, died Monday, November 21, 2016
Born June 2, 2009 in St. Louis Missouri
Kerrielle loved to dance, watching TV and participating on the cheerleading squad. She was extremely energetic and very happy. Kerrielle loved going to school. She was always excited to see her friends and teachers.
Kerrielle leaves to mourn her memories a dedicated and loving mother Gaylin Latrice Rose, a father Jerelle McDonald of St. Louis Missouri. Great grandmother, Brenda Hill of Indianapolis, Indiana, Grandfather, Tracy Rose of Flora, Indiana. Keyara has a host of aunties, uncles, cousins and friends that supported and loved her so very much.
Kerrielle's family invite friends to call Tuesday, November 29, 2016 from 4 to 7 PM at Carroll High School gymnasium.  Funeral service will be Wednesday at 10:00 AM at the school.  Rev. John E. Girton Jr. officiating.  Gaylin Rose and family would like to thank the town of Flora for the tremendous outpouring of love during this extremely difficult time. The family asks that any monetary donations to rebuild Gaylin's life, be made to:  Lafayette Bank & Trust, 805 E. Columbia Street, Flora, IN 46929 C/O Gaylin Latrice Rose.  Wheeler Family Funeral Home Baker Chapel has been entrusted to serve the family.  Assisting Wheelers will be Genda Funeral Home, Abbott Funeral Home and Soller-Baker Funeral Home.