perfective / 3 Comments /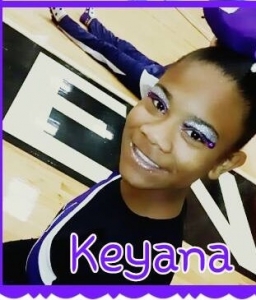 Keyana Latrice Davis, 11, died Monday, November 21, 2016
Born June 2, 2005 in Columbia, Missouri
Keyana was a very happy little girl. She loved to read, watching her favorite TV shows, sports and high fashion. She loved experiencing new places. She recently joined a cheerleading squad (Lafayette Diamonds) and was so excited to be a part of the cheering team. Keyana liked her teachers and her school. She loved hanging out with her family and little sisters.
Keyana leaves to mourn her memories a dedicated and loving mother Gaylin Latrice Rose, a father Damien Lee Davis of Jefferson City, Missouri, maternal Great grandmother, Brenda Hill of Indianapolis, Indiana, Grandfather, Tracy Rose of Flora, Indiana, maternal grandmother, Sarina Welch of San Francisco, California, fraternal grandmother, Tonya Cooksey of Jefferson City, Missouri, a paternal grandfather Manuel Davis of Jefferson City, Missouri.  A sister Caliegh Davis of Bakersfield, California, and Zayvaion Mayes of Jefferson City, Missouri. Keyana has a host of aunties, uncles, cousins and friends that supported and loved her so very much.
Keyana's family invite friends to call Tuesday, November 29, 2016 from 4 to 7 PM at Carroll High School gymnasium.  Funeral service will be Wednesday at 10:00 AM at the school.  Rev. John E. Girton Jr. officiating.  Gaylin Rose and family would like to thank the town of Flora for the tremendous outpouring of love during this extremely difficult time.  The family asks that any monetary donations to rebuild Gaylin's life, be made to:  Lafayette Bank & Trust, 805 E. Columbia Street, Flora, IN 46929 C/O Gaylin Latrice Rose.  Wheeler Family Funeral Home Baker Chapel has been entrusted to serve the family.  Assisting Wheelers will be Genda Funeral Home, Abbott Funeral Home and Soller-Baker Funeral Home.