perfective / 3 Comments /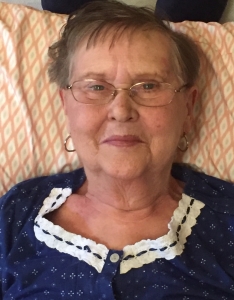 Linda Lou Thomas, 74, of Stockwell, IN went home to be with her Lord and Savior on Thursday, July 13, 2017, at her daughter's home in Stockwell.  Linda was born to the late Gerald and Helen Allen Grady on October 4, 1942 in Veedersburg, IN .
Growing up Linda was a member of the Veedersburg First Christian Church.  She graduated from Veedersburg High School.
On September 10, 1961, Linda married Ron D. Thomas in Veedersburg and he survives.
Linda worked at Wainwright Middle School as a cook and custodian.   She also was a cook with the Boys Club in Lafayette.  Linda and Ron lived in Dayton, IN for several years and later moved to Stockwell.
Linda is survived by her husband, Ron Thomas.  Daughter:  Elizabeth Ann Thomas Taylor of Stockwell (boyfriend Timothy Coberly) Twin sons. Michael Dean Thomas (friend Robin) of Bringhurst.  Mark Allen (fiancé Kim Elliott) Thomas of Brookston.  Sister: Jane Kenner of Covington, IN.  Brother:  Gerald "Buz" Grady of Lafayette.  Five grandchildren: Brandon Taylor, Candice Nichole Ferguson, Heidi Nichole Kuns, Sarah Elizabeth Thomas and Caleb Grady Thomas.  Seven great-grandchildren: Ashton, Autumn and Averie Taylor:  Kaden and Grace Ferguson:  Kaitlyn and Corbin Kuns. She was preceded in death by her brother, Jerry Grady on March 14, 2016.
Linda's life was her family, from watching her children grow to adulthood, to loving and enjoying every minute spent with her grandchildren and great-grandchildren.
Linda's family invite friends to call from 4-7PM on Monday, July 17th at Stockwell United Methodist Church.  A celebration of Linda's life will be held at 11AM on Tuesday, July 18th at the church.  Reverends Mark Miller and Mark Berg will be officiating.  Burial to follow at Stingley Cemetery, near Stockwell.