perfective / 4 Comments /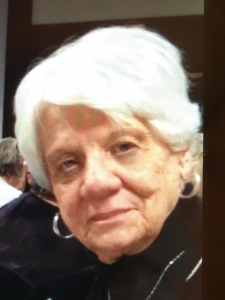 Marjorie L. Viney, 80, of Bringhurst, went home to be with her Lord and Savior Sunday morning, July 30, 2017 at IU Arnett Hospital Lafayette.  Marge was born to the late Arthur A and Rachel Kinkead Schenck on September 29, 1936 in Clinton County, IN.
Marjorie was a homemaker, but she was more than that.  She raised two children, helped her husband Joe farm and always put others needs in front of her's.  She was very active with the Zane Wagner "Soda Pop Foundation" where she would make meals and help in any other way possible.  She was an active member of the Bringhurst United Methodist Church, serving on numerous committees, sang in the choir.  She was a member of the United Methodist Women's.  She made prayer shawls for shut in's and people in need of help and prayer.  In her daughters, younger years Marge was a Brownie and Girl Scout Leader in Flora.  She enjoyed playing euchre, gardening, quilting, and was known to be a great cake baker.  When her family or friends had a party that needed a cake she would make it to fit their need.  Marge graduated from Flora High School in 1954.
On October 22, 1955, she married Joe L Viney at the Brethren Church in Flora and they spent 61 years together working the ground, raising a family and taking care of each other.
Marjorie is survived by her husband Joe.  One daughter: Sandra Viney of Romney.  One son and daughter-in-law:  Jeff and Rene Viney of Delphi.  Two sisters:  Marthena Smith of Missouri and Margaret Schenck of Flora.  One grandson: Jared (fiancé Morgan) Anderson.  One great-granddaughter:  Mackenzie Anderson and several nieces and nephews.
Marjorie's family invites friends to visit Thursday, August 3, 2017 from 3pm to 7 pm at the Bringhurst United Methodist Church.  Funeral service will begin at 11:00 am Friday at the church.  Rev Joe Boggs is officiating.  Burial to follow at Maple Lawn Cemetery.  Family request that all memorials be given to the church or the "Soda Pop Foundation".