perfective / 3 Comments /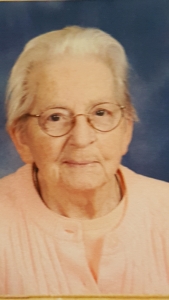 Martha H. Wilson, 94, of Delphi, was called home to be with her Lord and Savior Tuesday, October 18, 2016 at her home.  Martha was born to the late Charles and Laura Allen Kelly on November 25, 1921 in Howard County, IN.  She spent most of her life in Carroll County.
She married Cleo A. Wilson on June 23, 1938 in Delphi.  They were married for 56 years when he died on November 25, 1994.
Martha cooked at Camden and Yeoman Schools, worked at Sunday Castle in Delphi.  She also worked at Bob's Café and later purchased the business and changed the name to Dine Inn Café in Delphi.
She attended Cutler High School.  She was a member of the Radner United Methodist Church.  Martha was a devoted Christian and passed that along to her children and grandchildren.
Martha is survived by a son: Gary A. Wilson of Cutler.  Two daughters: Dixie Ruman of Battle Ground, IN and Diana McCracken of Delphi.  Brother: Dale Kelly of Arizona.  Sister: Thelma Morris of Ohio. Nine grandchildren, fifteen great-grandchildren and six great-great-grandchildren.  She is preceded in death by her parents, husband, granddaughter Lisa McCracken, Four brothers Glen, Max, Kenneth, Donald and a sister Gladys.
Martha's family invite friends to call Friday, October 21, 2016 from 4 to 7 PM at Wheeler Family Funeral Home-Baker Chapel, 204 South Center Street, Flora, IN 46929.  A Celebration of Martha H. Wilson's life will be at 10:00 AM Saturday at the funeral home.  Her son-in-law Rev, Lewis Ruman officiating.  Burial to follow at Maple Lawn Cemetery.  Family ask memorials to go to donor's choice in memory of Martha.