perfective / 2 Comments /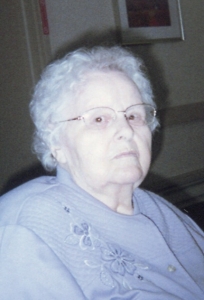 Martha Lou Milburn Sharp, 89, of Flora, died, Saturday, June 4, 2016 at Chase Center in Logansport, IN.  Martha was born to the late Basil Ray and Ethel D. Bock Milburn on April 15, 1927 in Carroll County, IN.
She married Kenneth D. Sharp and he preceded her in death.
Martha cleaned homes in Flora and the surrounding area for years.  She also worked at the Brethren Home in Flora and HW Gossard Factory in Flora.  She was a group leader at the Cabinet Radio Company in Flora.
Martha was a proud 4-H member for years in home and livestock receiving many high honors.  She was a member of the Flora Garden Club and Church of the Brethren in Flora.  Martha enjoyed gardening at her home on Jackson Street for years.
Martha is survived by four sisters and a brother-in-law:  Joan Martin of Burrows, Betty Farrer of Royal Center, Bonnie McGill of Lafayette and Roberta and Lester Elliott of Lucerne, IN.  One brother: Robert "Bob" Milburn of Logansport. Also several nieces and nephews.  She is preceded by a son: Duane Sharp and a granddaughter: Nedra.  Two sisters: Marjorie Crume and Hilda Reeding.
Martha's family will receive friends Wednesday, June 8, 2016 from 2:00 PM till time of service at 3:00 PM at Wheeler Family Funeral Home-Baker Chapel, 204 South Center Street, Flora, IN 46929.  Rev Amos McGinnis officiating.  Burial to follow at Maple Lawn Cemetery.  Family asks that donations go to Riley Children's Hospital.  Envelopes will be available at funeral home.
Send condolences below.