perfective / 5 Comments /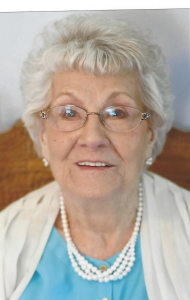 Mary E. Fenton Walker, 94, formally of Bringhurst, went home to be with her Lord and Savior Monday, August 29, 2016 at her daughter's home in Indianapolis.  Mary was born to the late Carl E. and Eleanora McQuarter Fenton on January 26, 1922 in Nashville, TN.   She spent most of her life in Carroll County.
She married Marion A. "MA" Walker on June 16, 1940 in Kentucky and he preceded her on October 29, 1990.
Mary worked in Flora at Essex Wire.  Most of her life was devoted to raising her kids and being part of her grandchildren and great-grandchildren's live's. Her children new her as a loving and tender mother, with the strength of a gentle giant.  She was a member of the Elmwood Church of Christ in Lafayette.
Mary is survived by one son:  William Walker (Peg) of Rochester.  Four daughters:  Carolyn Rigdon (Mickey) of Lafayette, Marilyn Walters (Kevin) of Lafayette, Mary Tabler of Logansport and Lisa Johnson (Ron) of Indianapolis.  Fifteen grandchildren, twenty-seven great-grandchildren and ten great-great-grandchildren.  She is preceded by her parents, husband, one son: James Walker.  Two brothers: Carl and James.  Two sisters:  Annie and Elizabeth.
Mary's family invites friends to call one hour prior to her celebration of life service at 11:00 AM Thursday at Wheeler Family Funeral Home-Baker Chapel, 204 S. Center St., Flora, IN 46929.  Her son-in-law Ron Johnson will be officiating.  Burial to follow at Maple Lawn Cemetery.  Memorials may be given in Mary's honor to Great Lakes Hospice.  Envelopes will be available at funeral home.