perfective / 5 Comments /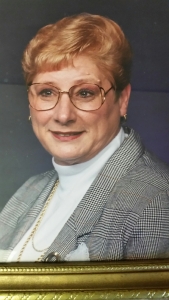 Mary E. Wyman, 76, of Indianapolis, died Friday, December 25, 2015.  Mary was born to the late Paul Allen and Lena Evelyn Pickering Switzer on January 12, 1939 in Indianapolis, IN.  Mary's biological father died when she was very young.  Her mother remarried Harvey Bundy and he and her mother raised her together.     Mary grew up in Wanamaker, Indiana.  
Mary owned and operated Peppy's Grill in Fountain Square for 34 years, selling the business 2 years ago.  She graduated from Franklin Central High School and IUPUI.  She was a member of the Oder of Eastern Star and of the Southeast Baptist Tabernacle in Indianapolis.
Surviving Mary are her children: Jerry Wyman of San Antonio, TX, Jeannie Hilfiker of Indianapolis, Caira Patrick of Wanamaker, Michael Wyman of Greenwood, and Mikasa Barton of Columbus, OH.  15 grandchildren and 13 great-grandchildren.  One brother: Jack Bundy and one sister: Barbara Ervin                    
She is preceded by her parents, grandson: Christopher Wyman, son: Bart Scott Wyman, sister: Shirley Sears, brother: David Switzer
Family will receive friends Wednesday, December 30 from 4-8 PM at Southeast Baptist Tabernacle, 6835 Shelbyville Road, Indianapolis.  Funeral service will be at 10:30 AM Thursday at the church with calling 30 minutes prior.   Pastor John Ray officiating.  Burial to follow at Forest Lawn Memory Gardens.   Memorials may be given in Mary Wyman's memory to the Southeast Baptist Tabernacle.  Wheeler Family Funeral Home-Baker Chapel Flora, Indiana is assisting family with arrangements.