perfective / 14 Comments /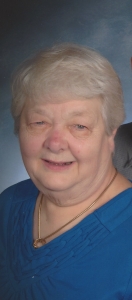 Mary M. Spangle, Flora, Indiana, 72, died Thursday, January 26, 2017, at St. Vincent Hospital, Kokomo.  She was born on August 5, 1944 to the late Harold C. and Beulah Maxine Payne Pence in Frankfort, IN. She married Merle D. Spangle, September 3, 1966 in Frankfort, IN and he survives. Mary was a graduate of Frankfort High School and a homemaker. Survivors with her husband Merle is one daughter:  Laura Pierce, Kokomo, IN, one son and daughter-in-law:  Kirk (Tamara Biddle) Spangle, Galveston, IN, one sister, Rita Ferguson, Greencastle, IN. She is also survived by five grandchildren, Gary French III, Mitchell French, Daniel S. Pierce, Drake Clark and Nathan Spangle, as well as three great grandchildren, Andreya, Joshua and Harlie. One brother Harold C. Pence Jr precedes.
Services will be held at Wheeler Family Funeral Home-Baker Chapel 204 S Center Street, Flora, IN on Sunday, January 29th with visitation from 12pm to 2pm with the funeral to follow immediately. Rev. Jeff Landon will officiate the services with burial to follow at Maple Lawn Cemetery.  Memorial Contributions may be made to Flora United Methodist Church in remembrance of Mary M. Spangle.