perfective / 3 Comments /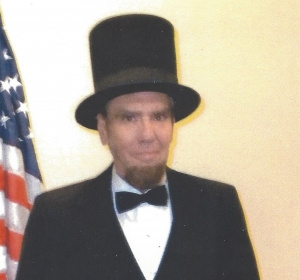 Meredith L. Ayres, 75, of Flora, passed away at his home Sunday, July 17, 2016 after a long battle of health issues.  Meredith was born to the late Robert and Mary Toler Ayres on September 12, 1940 in Bringhurst, IN.  He lived in Carroll County all of his life.
Meredith married Sharon J. Cromer on June 11, 1961 in Cutler and she survives.
Most of Meredith's life he was a dairy farmer retiring in 1990.  He also owned Ayres Enterprises in Flora.  The one thing that Meredith loved to do was to portray President Abraham Lincoln.  When he would meet someone and would give them his business card with a bright penny on it, with President Lincoln's face looking at you.  He would always say, "I can't afford to give you a Cadillac so here is a Lincoln."
Meredith graduated from Cutler High School in 1958.  He was active in the Carroll County 4-H serving as a leader for over 40 years.  Past President of Farm Bureau for 7 years.  Past President of Carroll High School music boosters.  Deacon at Grace Brethren Church.  Precinct committee for 40 years.  He received the 1970 Younger Farmer's Award.  He also received the State Corn Yield Award.  He attended Galveston 1st Baptist Church.
Surviving are his wife of 55 years, Sharon Ayres.  One Daughter and son-in-law: Carrie and Jon Johnson of St. Peters, MO.   Three sons and daughters-in-law:  Kirk and Chrystal Ayres of Bringhurst, Kip and Cathy Ayres of Bringhurst, and Kane Ayres of Flora.  One sister and brother-in-law:  Janet Ayres and Lynn Corson of Delphi. One brother and sister-in-law: Ric and Vickie Ayres of Bringhurst. Eleven grandchildren and eight great-grandchildren. He is preceded by his parents, one sister: Linda Cromer and a granddaughter Capri Rachael Ayres.
Meredith's family will receive friends Thursday from 4-8 PM at Wheeler Family Funeral Home-Baker Chapel, 204 South Center Street, Flora, IN 46929.  A celebration of Meredith's life will be at 11:00 AM Friday at the funeral home.  Officiating Rev Paul Martin.   Burial to follow at Maple Lawn Cemetery.  The family asks that memorials be given to Endless Frontier.  Envelopes will be available at the funeral home.