perfective / 5 Comments /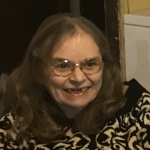 Nancy J. Lewis, 60, of West Lafayette, IN., died Saturday, December 30, 2017 at IU Arnett Hospital Lafayette.  Nancy was born to the late Roy and Barbara Kingery Zufall on February 1, 1957 in Lafayette, IN.
Nancy graduated from Lafayette Jefferson High School in 1977.  She worked at the Wabash Center for many years.  In her younger days she enjoyed, knitting and crocheting.
Nancy is survived by her son, John Lewis of Lafayette.  One sister and brother-in-law:  Kelly and Norman Holderfield of Lafayette.  Two brothers and sisters-in-laws:  David and Rose Zufall of Independence, IN: John and Cindy Zufall of Texas.  And several nieces and nephews.  She is preceded by her parents.
Family invites friends to visit Wednesday, January 3, 2018 from 11:00 am till time of service at 1:00 PM at Wheeler Family Funeral Home-Baker Chapel, 204 South Center Street, Flora, IN 46929.  Betty Coppock will officiate.  Burial will be at North Union Cemetery near Buck Creek, IN.  Donations may be given to the Wabash Center in Lafayette.  Envelopes will be available at the funeral home.