perfective / 2 Comments /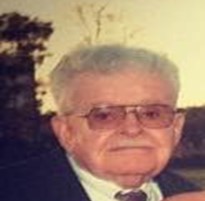 Paul L. Fife, 94, of Bringhurst, was called home to be with his Lord and Savior Sunday, October 30, 2016 at his home.  Paul was born to the late Lester and Gladys Leslie Fife on January 8, 1922 in Carroll County, Indiana.
Paul married Ruby "Peggy" Reppert on July 26, 1942 in Carrol County.  She preceded him on November 9, 2011.
He was a farmer all his life, providing for his family.  He was a graduate of Carrollton High School, and a Charter member of Grace Brethren Church in Flora.  Paul served our Country during  WWII in the US Army.
Surviving are a daughter and son-in-law: Sandra and Phillip Parsley of Flora.  Son and daughter-in-law: Jerry and Mary Ann Fife of Nashville, TN.  One brother: Kenneth Fife of Pittsboro, IN.  One sister: Doris Clem of Cincinnati, OH.  Three grandchildren and four great-grandchildren.  He is preceded by his parents, wife, and a brother-Donald Fife.
Paul's family invites friends to visit from 12:00 PM to time of service at 1:00 PM Friday, November 4, 2016 at Wheeler Family Funeral Home-Baker Chapel, 204 South Center Street, Flora, IN 46929.  Pastor Marvin Meeker officiating.  Burial to follow at Maple Lawn Cemetery with Carroll County Military Graveside Rites.  Family ask that all donations be given in Paul L. Fife's memory to Carroll County Cancer.