perfective / 1 Comments /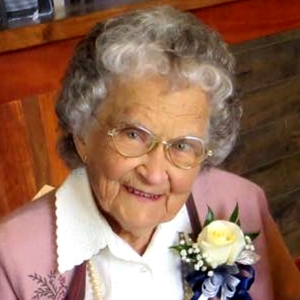 Phyllis Jeane Overholser, 92, formerly of Bringhurst, Indiana died Monday, January 16th, 2017 at 9:08  pm at Wellbrooke of Kokomo where she had resided for the past 4 years.   She was born on June 20, 1924 to the late Bruce Milburn and Lucille Toler Milburn.   Her marriage was to Robert D. Overholser on April 25th, 1942, who preceded her in death.    Phyllis was a graduate of Burlington high school and was a lifelong resident with her husband of Carroll County.  She was a faithful member and deaconess of the Flora First Brethren Church.   She loved to drive grain trucks, help with livestock and enjoyed living and working on the farm.   She had a special gift of caring for family and friends, and blessed many lives with her thoughtful cards and beautifully written letters.  Survivors include:  2 sons and their wives,  Dr. Terry and Becky Overholser, Newcomerstown, Ohio and Rex and Suzan Overholser, Bringhurst, IN,  Four grandchildren and their spouses:  Dr.'s  Emily and Terry Heuring, Springfield, Va,   Darin & Crystal Overholser, Taylor Mill, Ky.,  Dr.  Kara and Tyler Peas,  Wabash, IN, and Trey Overholser, West Lafayette, IN.   She loved her 2 great grandchildren who brought her great joy, Nash and Nya Overholser.  She is also survived by her brother and sister-in-law, Dean and Donna Overholser of Delphi, IN along with several nieces and nephews.
Services will be held at the Wheeler Family Funeral Home-Baker Chapel 204 South Center Street Flora, IN on Friday, January 20th with visitation from 1:00 pm to 3:00 with the funeral to follow immediately.   Rev. Joel Flowers will officiate the services with burial in Maple Lawn Cemetery.    Memorial Contributions may be made to the Carroll County 4 H Exhibit Association in remembrance of Phyllis Overholser.