perfective / 2 Comments /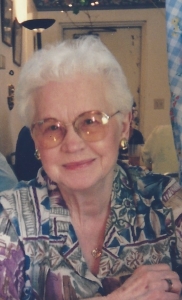 Phyllis L. Cook, 100, formally of Flora, was called home to be with her Lord and Savior Wednesday, July 19, 2017 at St. Elizabeth Healthcare in Delphi.  Phyllis was born to the late Robert and Geneva Barnard Reef on May 13, 1917 in Cutler, Indiana.  Phyllis lived in Carroll County, mainly in Cutler and Flora all her life.
On September 2, 1939 in Cutler she married Harold Dean Cook and he preceded her in April 2004. They were married 65 years and raised 4 children.
Phyllis was a homemaker.  She graduated from Cutler High School.  She was a longtime member of the Cutler Presbyterian Church, where she played the organ and sang in the choir.  She was a member of the Presbyterian Women Group, Carroll County Choir, Cutler Home Eco Club and during her younger years she was an avid bowler.
Phyllis is survived by two daughters and son-in-law's: Sandra and Don Roth of Delphi:  Joretta and Randy Gibson of Kokomo.  Two sons and daughter-in-law's:  Edward and Candice Cook of Huntingburg, IN:  Jeffrey and Lisa Cook of Delphi.  One sister and brother-in-law: Rosemary and Bob Dyer of Cutler.  Eleven grandchildren:  Rick Roth (Sandy), Rob Roth (Jean), Shannon Keyser (Brian), Brandon Cook, Allison Cook (Dannie), Nathan Gibson, Rhaeanna Harcourt (Dean), Trevor Gibson, Jennifer Bromley (Derek), Emily Friend (Eric) and Justin Knight.  Several great-grandchildren. Two sisters-in-law's: Marjorie and Joann Reef.  Phyllis is preceded by her husband, parents, grandson (Ryan Roth), sister (Lois Jean Kirkpatrick) three brothers (Dick, Carol and Mike)
A celebration of Phyllis L. Cooks life will be at 1:30 PM Tuesday, July 25, 2017 at Cutler Presbyterian Church, 40 East 500 South, Cutler, IN.   Burial to follow at Ball Hill Cemetery.  Family ask that any donations be given to the Cutler Presbyterian Church.  Wheeler Family Funeral Home-Baker Chapel Flora is honored to assist Phyllis L. Cook's family with arrangements.