perfective / 2 Comments /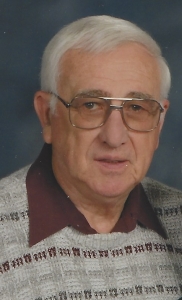 Richard "Dick" L. Pulley, 82, of Bringhurst, IN went home to be with his Lord and Savior Thursday, April 5, 2018 at his home surrounded by his family. Dick was born to the late Harley and Thelma Curran Pulley on November 16, 1935 in Howard County.
On March 6, 1955 in Mulberry, IN, Dick married the love of his life, Barb J. Gascho and enjoyed 63 years together. 
Dick worked for Farm Bureau Co-op for 45 years working as Manager of the Bringhurst Grain Elevator.  He was a 1954 graduate of Frankfort High School.  Member of the Bringhurst United Methodist Church, 50 year member of the Frankfort Moose Lodge #7, which is the oldest Moose Lodge in the States.  He enjoyed the outdoors, fishing, camping and being with family and friends.   In his younger years he was an avid roller skater.  Dick was a proud Purdue fan.
Survivors along with his wife Barb are Two daughters:  Lisa Morrow of Flora and Rebecca "Becky" Austin (Norman) of Greenwood, IN.  One son: Kim Pulley (Cindy) of Bringhurst.  Daughter-in-law: Connie Pulley of Monticello.   A very special nephew: JB Heise of Naples, FL.  Seven grandchildren and seven great-grandchildren.  Preceding in death a son Jeffrey Lynn Pulley in 1983, his parents, three sisters, three brothers.
Dick's family invite friends to visit Saturday, April 7, 2018 from 11 AM to time of his service at 2 PM at the Bringhurst United Methodist Church.   Reverend Larry DeVos and Pastor Joe Boggs will officiate.  Burial to follow at Fairhaven Cemetery, Mulberry.  Family asks that all donations be given in Dick's memory to the Bringhurst United Methodist Church or the Carroll County Cancer Society.  Wheeler Family Funeral Home-Baker Chapel is honored to serve the Pulley Family.