perfective / 4 Comments /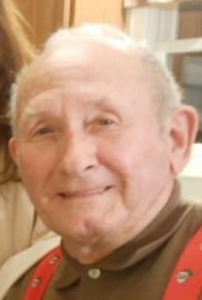 Robert W. Kingery – passed Tuesday, May 31, 2016 at IU Methodist Hospital in Indianapolis IN.  Born in Carroll County Aril 20, 1929 to Carl and Mary Kingery.
Sister Helen Snider, Carl and Mary Kingery preceded him in death.
Bob's story: graduated from Carroll High School and had a dedicated life to farming and enjoyed spending time with his family and friends. Bob knew no stranger, and spent his later years finding the next big deal at farm sales, yard sales and shopping the Flora Thrift Shop. He enjoyed his weekly lunches with friends at the Flora Senior Center.
He had such a loving heart and brought smiles to those who crossed his adventurous path.
Children and spouses: Robert and Marta Kingery Jr. Of Franklin, TN; Teresa Kingery and Greg Reichert of Nashville, TN and David and Cathy Kingery of Cutler, IN.
Grandchildren: Troy Anderson Calvin Kingery, Johnna Hayman, Jacob Kingery, Kaitlyn Mae Kingery, Jessica Kingery and Carly Kingery Great Grandchildren: 6
Donations honoring Bob Kingery may be made to the Flora Thrift Shop or the Flora Senior Center.
Bob's family will receive friends Saturday, June 11, 2016 from 2:00 to 4:00.
Send condolences below.