perfective / 0 Comments /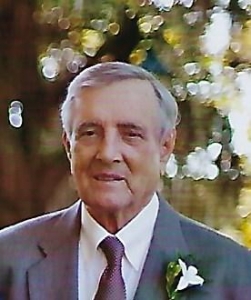 Robert E. "Bob" Scott, 91, of rural Camden, died Tuesday-July 4, 2017 at 4:49pm, at McKinney Place in Logansport. He had been a resident there for the past year and a half. He was born August 28, 1925 in Carroll County, to the late Robert C. & Merle Everett Scott. His marriage was to Betty Jo Barnard in Flora, on August 7, 1944, and she preceded him in death on December 4, 1996. He graduated from the former Carrollton High School in 1943, and served 2 years in the U.S. Coast Guard. After is discharge from the service, he worked for Jess Zook, at the Camden Elevator for a brief time. He then started farming, raising grain and had livestock, East of Camden in Carroll County. He was a member of the Camden Baptist Church. He belonged to the Camden American Legion, and was active in 4-H, and was a leader for many years. He enjoyed restoring antique tractors, showing them, driving in the annual Carroll Co. 4-H parade, and participating in the antique tractor drive. He and his wife enjoyed traveling, and their many day trips they would take. He dearly loved his family and the gathering they would share. He loved his grandchildren, and enjoyed taking Jamie to her sporting events. Surviving: daughters-Kay & Todd Yoder of Camden, Sue & Mark Nipple of Delphi; son-Mike & Kathy Scott of Camden; 9 grandchildren; 16 great grandchildren survive. Preceded in death by 2 sister's, and a brother.
Services: Friends may call Sunday from 1pm until his funeral service at 3pm at Wheeler Family Funeral Home, Baker Chapel, Flora. Pastor Jerry Long officiating. Burial at Maple Lawn Cemetery, Flora; Carroll County Honor Guard providing military honor's. Memorial contributions to the Community Foundation, envelopes available at the funeral home.