perfective / 2 Comments /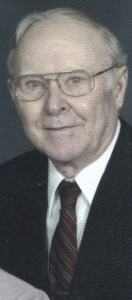 Robert E. Scholl, 89, of Flora, passed away at 2:44 a.m.   Thursday, Feb. 2, 2017, at Franciscan Health Lafayette East, where he had been a patient since Sunday. Born April 13, 1927, east of Flora, he was the son of Forrest  Scholl and Rosa Blocher Scholl. He graduated from Camden High School in 1945, and then entered the U.S. Navy. He was discharged in 1946. He dated Marjorie Ann Brubaker for three years before they married on Sept. 24, 1949, in Flora. They were together for 70 years and shared 67 years of marriage. Bob was a grain and hog farmer east of Flora and Marge worked along side him. Together they worked their farm, raised their two children and made a happy life together. They retired from farming in 1991 and moved to town, where they have resided ever since. Even though he retired, Bob was always a farmer at heart. He loved going out to his barn, checking the crops, and talking about the weather and farming. One of his favorite things to do was mow; he loved getting on his John Deere and mowing the yard and barn lot. A caring man, Bob was always concerned about others. He enjoyed get-togethers with family and friends, gatherings at church, and visiting with his neighbors. He and Marge used to be season ticket holders for Purdue Girls Basketball games, but in recent years have enjoyed watching basketball games, girls' and boys', on TV from the comfort of their home. He was a member of the Lower Deer Creek Church of the Brethren, rural Camden, and was now attending the Flora Presbyterian Church. Bob was known to be a bit or a worrier, a trait his grandson admits he inherited. He also liked to joke around and his granddaughter was fond of saying, "Grandpa has that little grin again." His grandchildren brought him a lot of joy, as did his great-grandchildren.
Surviving with his wife are his son and daughter-in-law, Gary and Susan Scholl of Flora; two grandchildren, Drew Scholl (wife Julie) of Carmel and Maggie Scholl (fiancé Eric Randle) of Flora; two great-grandsons, Brenton Jackson and Oliver Scholl; and a bonus great-grandson, Ethan Randle.
A tragedy during his life was the death of his daughter, Colleen, in 1975 at age 19. That was a difficult time. His parents also preceded him in death as did his older sister, Anna Lou Flora.
Services will be held at 3 p.m. Saturday, Feb. 4, at Wheeler Family Funeral Home-Baker Chapel, 204 S. Center St., Flora (46929). Calling will be two hours prior to the service. Burial will follow at Maple Lawn Cemetery, Flora.
Memorials may be made to Riley Children's Hospital, Neonatal Unit, Indianapolis.