perfective / 1 Comments /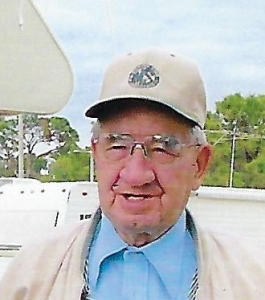 Robert Lowell Brubaker, 92, of rural Flora, died Sunday-Feb 18, 2018, at 10:00pm, at Woodbridge Health Campus, Logansport. He was born May 1, 1925 in Howard Co., IN, to the late Ira Joseph & Eva Mae Sink Brubaker. His marriage was to Almeda Jean Popejoy in Flora, on Jan 20, 1945, and she preceded him in death on Apr 26, 2012. He was a 1943 graduate of Camden High School. He farmed in Jackson Township all his life. He was a member of the Living Faith Church of the Brethren, rural Flora. He was a member of Gideon's International. He and his wife enjoyed traveling, and had been in all the States, except Hawaii. He enjoyed life on the farm, but his greatest joy was his family. Surviving: son's-Blaine Alan & Brenda Brubaker of Flora, Lynn Lowell & Sue Brubaker of Delphi; daughter-Wanda Lee & Gene Howell of Logansport; sister's-Marjorie Scholl of Flora, Betty Edging of Logansport; brother-Joe Brubaker of Kokomo; grandchildren: Amy L. Ritter, Angela S. Kingery, Nicole L. Ingalls, Lori A. Brubaker, Ryan A. Gross, David E. Gross, Lynette L. Lock; great grandchildren: Elizabeth A. Houser, Troy A. Houser, Ashlan R. Kingery, Jaelyn L. Kingery, Natalie A. Ritter, Jalen D. Gross, Luke Ritter, Killian J. Ingalls; step granddaughters-Amber & Trisha; step great grandchildren-Timothy, Hunter, & River. Preceded by a infant daughter 4 days old, Wanda Jean Brubaker.
Services: Friends may call Thursday at Wheeler Family Funeral Home, Baker Chapel, Flora, from 11am until his funeral service at 1pm. Pastor Jeff Tomson officiating. Burial at Masonic Cemetery, Flora. Memorial contributions to Living Faith Church of the Brethren, envelopes available at the funeral home.