perfective / 5 Comments /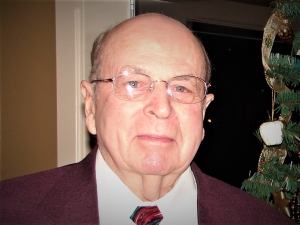 Virgil A Maxwell, 96, of Flora, died Saturday, April 14, 2018.
Virgil A. Maxwell, the loving husband of Laura L. Dillman. Passed from this earth on April 14th, 2018 while at Creasy Springs in Lafayette, Indiana where he had been a resident since January, surrounded by his family.
Born to Ellis E. and Olee L. (Meador) Maxwell on March 31, 1922 in Carroll County, Indiana. He attended the Church of the Brethren and Christian Church. He is currently a member of the Living Faith Church of the Brethren.  He attended Flora High School
On Sept 15th, 1942 he was drafted into the army, World War II, served in Africa and Italy for thirty two months.    Nine (9) Carroll County men were inducted together and served together in the 338th Army Corp of Engineers, his rank was T/5 Corporal. He is the last one of the nine.
Virgil married his sweetheart, Laura L. Dillman on Christmas Eve, 1945 at the Flora Christian Church.
Virgil farmed and raised hogs and Red Poll Cattle, he loved to garden and have his bird feeders filled.
Virgil and Laura enjoyed about 30 years of square-dancing and many years of going to public sales and collecting antiques.
Survivors: Wife of 72 + years, Laura L. (Dillman) Maxwell
Two children, Meredith L. (Emma) Maxwell, Mary C. Fisher all of Flora, Indiana.
Grandchildren: Jennifer (Terry) Nolley of Peru, Stephanie (Louie) Martin of Flora, Christopher (Brenda) Fisher of Bringhurst, Darrick Fisher of Flora.
Six (6)Great Grandchildren , four (4) Great Great Grandchildren , Sister-in-Law, Rachael Maxwell of Delphi, Indiana.
Preceded in death by: His parents, two sisters, six brothers.
Virgil's family invites friends to call Thursday, April 19th, from 4 to 7 p.m. at Wheeler Family Funeral Home-Baker Chapel, 204 S. Center St., Flora (46929). A celebration of his life will be held at 10:30 a.m. Friday, April 20th, at the funeral home with the Rev. Larry DeVos and Pastor Jeff Tomson officiating. Burial will follow at Maple Lawn Cemetery, Flora, IN. with Carroll County Honor Guard burial rites. 
The family requests that all memorials be given to Disabled Veterans.